Mariah has the opportunity to work with many families to train their dogs. Here are a few of our dog training success stories.
Mariah did an outstanding job with our very hyper Weimaraner puppy, Dolly. By the time Dolly was 4 months old, she was jumping on us, biting us, leaping off of the back of the couch and harassing us during our dinners even though she had already had dinner. Mariah was great. In no time, she had Dolly greeting us politely, staying on a mat while we ate and no more biting or death leaps from the couch! Mariah's training techniques are so great; after 1 or 2 times, Dolly knew exactly what she was supposed to do. (I'd like to give Dolly credit for being so smart, but I know Mariah is really the one who deserves it – she knows what she's doing!) I would recommend Mariah Hinds Dog Training to anyone needing assistance with an energetic puppy or dog in need of better manners!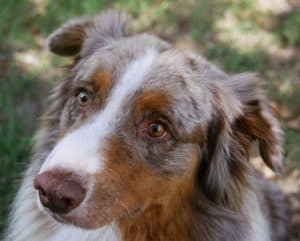 Before training with Mariah, my dog wasn't allowed to go out in the front yard ever. Teddy has several fear issues and would respond aggressively to everything. He had pulled me down repeatedly lunging at people, joggers, bicyclists, and other dogs and the last time he pulled me down, I really hurt myself. I was petrified that I was going to get hurt again. Mariah did a magnificent job of raising my dog's confidence… as well as my own. We went to parks together and Mariah was terrific at introducing him to new situations slowly and teaching me how to look for his cues and ease his anxieties. We're now enjoying walks together – even in crowded areas with numerous triggers. We go to the park and we go downtown and we go everywhere now. I'm so grateful that we could accomplish so much using only kind training methods! Thanks, Mariah!
My 7-year-old Yorkie was having a difficult time making good choices when people came over and he still wasn't potty trained reliably. I was ready to be done cleaning up pee and poop!! After training with Mariah, not only did he learn new tricks but he can now tell me when he wants to go to the bathroom, stays in his basket when new friends come through the door and his over all anxiety is down. Thank you so much for taking the time to train with me and mister Harvey!
We appreciate you and will recommend you to anyone who is having dog training problems!
Before dog training lessons with Mariah, our dog Ellie was barking and lunging on the leash towards other dogs and occasionally towards people as well. We were really worried that she was going to hurt someone and that we might have to give her away. Once we met with Mariah, we learned that leash reactivity is a really common issue and that Ellie can learn to make better choices on leash. With Mariah's help in just a short time we were able to help our puppy overcome this. Even after the training was done, she is always there to answer any questions we may have about any issues that may arise while we are still getting to know our new family member. Mariah is such a wonderful person and a gifted trainer. She has helped us so much! Thank you so much, Mariah!