Aggressive Dog Training Leash Reactivity
Aggressive dog behavior will not go away on its own. The dog will not grow out of it. Left untreated, both the frequency and the intensity of the problems will increase. Aggressive dog training is needed to decrease the frequency and intensity of the problem behaviors. Barking and growling at other dogs is a common behavior problem. Most people try yelling, dragging their dog away from the other dog, doing more exposure to other dogs, and lots of various training equipment all with no results or a temporary reduction in barking. Let us show you how to permanently address your dog's behavior towards other dogs. We use reward-based training methods to teach your dog how to interact with the other dog ensuring lasting success and persistent good manners. We can help! There's no need to walk your dog in the dark to avoid the issue. Let us show you how to teach your dog to be social and polite with other dogs.
Aggressive dog training Charlotte nc
Lunging or barking at other dogs? Our Reactive Rover class will teach you the tools you need to help change your dog's leash reactivity and enable your dog to be calm, quiet and focused on you instead of barking and growling at other dogs.
Reactive Rover Class
Reactive Rover Class includes: 
Body Language signs before the explosion
How to help your dog after a reaction
How to prevent the lunging and growling on leash
Building great leash walking skills
Building Focus and impulse control
The value of sniffing for the leash reactive dog
Video analysis of the area that you walk your dog
How to handle surprise dogs
Walking past other dogs at a distance your dog can be successful
Hearing other dogs and remaining calm
Our Reactive Rover Beginner Class includes 3 components:
1. 4 weeks of Reactive Rover Prep sessions
With our online training success sessions, your dog gets to start learning the foundation skills away from other dogs in your home where there are fewer distractions. That enables your dog to be more successful during our in person training sessions. During the online sessions, you get to see me demo the game with my dogs and then you get to try it with your own dog. You get to save time since you aren't having to drive to class as frequently while still learning the necessary information for your dog to learn the skills to focus on you instead of barking at other dogs. The prep sessions are live and online.
Online sessions are at 6:30 pm on: Wednesday nights starting in July. Sessions are recorded for those who can't attend live.
2. Complete dog training success online course
Full access to our complete dog training online course to guide you through the steps towards training success
3. 6 weeks of in person Reactive Rover sessions.
Coming soon Saturdays in July at 2148 old hickory grove Mount Holly, NC in our state of the art, fully-matted, fully-enclosed, outdoor covered building.
Our Reactive Rover class is designed for you to learn the tools you need to teach your dog to cooperate with you, and to be calm, quiet and focused on you while around other dogs on leash.
Cost: Class is a total of 10 hours of training. Class is limited to 4 dogs total. Class has an instructor and an assistant to maximize training success. The cost for class is $399
How do I register for classes that eliminate my dogs aggression?
Register for class using the form below.
Where are your Aggressive dog training Charlotte nc classes?
Our Charlotte dog training classes are held in a state of the art dog training facility in Mount Holly, NC near the Charlotte airport. Our classes are designed to help owners succeed in training their dogs.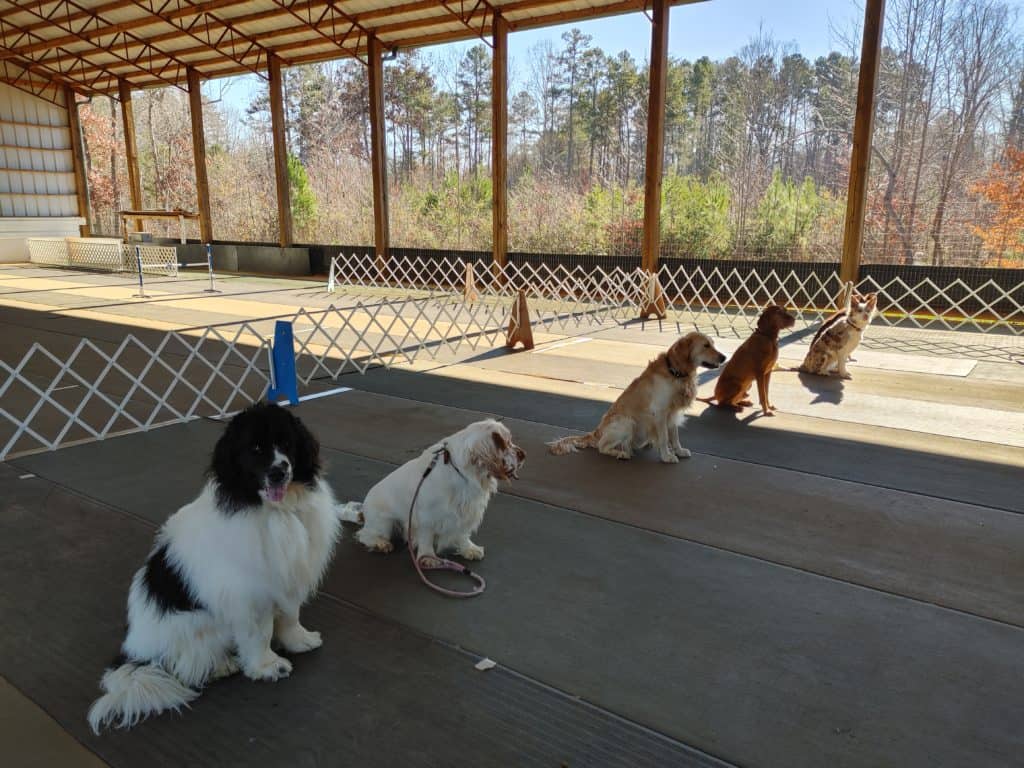 Aggressive Dog Problems we can help with:
Aggressive towards dogs
Aggressive towards people and visitors
Aggressive towards vets and groomers
Aggressive towards family members
Aggressive when the dog has bones or food bowls
Lunging at dogs on leash
Aggression during nail trims or vet visits
Growling, nipping and snapping
Anxiety and Fearful Behaviors
Aggression towards people or dogs
Separation anxiety
Territorial aggression
We can help! We've helped hundreds of families just like yours.
When a dog is in an aggressive dog state of mind, they can easily bite people and other dogs nearby. Don't lose your home because your dog bit the wrong dog or person. Schedule your
FREE phone consultation now!
Common Aggressive Dog Issues:
Aggression towards dogs or other animals
Growling, barking or lunging at new people and visitors
Growling when you or another dog approach bones or food bowls
Growling, biting and aggressive behaviors at the vet clinic or groomer
Growling, nipping and snapping at people who live with the dog
Feel safe and happy about your dog again! Get started eliminating your aggressive dog behaviors!
Mariah is a great balance of encouraging and humorous which works well when you have THREE dachshunds that all have different needs. She works well with my teenager with aggression issues, my old-souled fearful girl that is scared of her own shadow and my new puppy teaching her general manners and obedience. I have tried other trainers. Mariah definitely hits the mark with her positive reinforcement and patience while training the humans and the dogs in the house.
-Michelle G.
Mariah is as much people trainer as she is a dog trainer. We have used her in-home training services for the foundation skills and commands as well as her group classes for both of rescue dogs. One of the benefits of the latter for us is the ability for one of our dogs – who has a hard time meeting new dogs on the leash – to socialize with other dogs in a structured environment.
On top of all the training, she always does a great job with follow-up and additional educational material. I wish training with Mariah was mandatory for all new dog owners. -Jack T.
Fantastic positive reinforcement techniques proved to be incredibly effective for my high-energy yet shy chihuahua-mix who had a fear of others' hands (a problem that sometimes led her to snap at other people!). I highly recommend the Mariah Hinds to anyone who is seeking behavioral modification for their pup(s). Thank you, Mariah!
– Crystal P.
Teddy, a rescued Australian Shepherd mix, has several fear issues and would respond aggressively, but Mariah was terrific at introducing him to new situations slowly and teaching me how to look for his cues and ease his anxieties. We're now enjoying walks together – even in crowded areas with numerous triggers.
-Melanie M.
After becoming aggressive towards several of my friends, I was desperate to find someone to help Barney and I. Since Barney's very first training session with Mariah, I have seen great changes in him. His confidence has increased, he is able to calm down easier, he is less anxious, and he is overall a happier and friendlier dog. -Marissa Z.
His over all anxiety is down! Thank you so much for taking the time to train with me and mister Harvey! We appreciate you and will recommend you to anyone who is having behavior problems! -Mary H.